World's #1 Eco-Tourism – Guyana is recognized as the world's #1 Eco-tourism destination, Best in Sustainable Tourism, and Top 10 Sustainable Destination (2019)
9 Sustainable Experiences in Latin America for 2021
Wanderlust Magazine-Top 20 destinations to visit in 2021
Condé Nast Traveler-Community-led and owned Tourism
3rd Largest Export Sector – Tourism is the 3rd largest export earner sector in Guyana after oil and natural resources
GDP – The total contribution of travel and tourism to GDP is estimated to be 7.8% (2018)
Earnings-Guyana has earned approximately $24 billion (Sept 2021) based on the average expenditure per visitor per type at US$1,060.
Job Creation –Travel and Tourism contributes to 22,000 jobs in Guyana (2018)
Travel and Tourism – Travel and Tourism injected approximately G$62.6B directly into Guyana's economy (2018)-Travel and tourism investment in Guyana is projected to increase to GY$7.7B by 2028
Visitors – Guyana visitor arrivals increased to 131,381 in 2021, a 52 percent increase over 2020.
Expenditure – Based on the analysis of the VEMS survey of the BoS, GTA estimates that the average expenditure per international visit is GY$222,216
Contribution – Tourism contributes to Guyana's Green State Agenda and all 17 UN Sustainable Development Goals.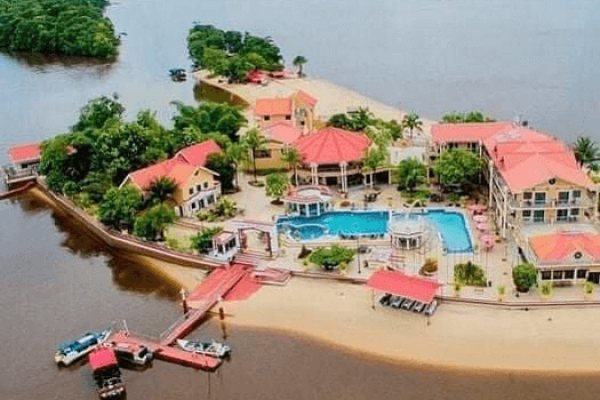 Strategic Placement: Guyana enjoys favorable geographic, economic and cultural linkages with the Caribbean and South American markets.
Competitive Labor Market: Economical wage rates and diverse, trainable labor force with enhanced strategies established for capacity building and human resource development.
Enabling Investment Environment: Guyana's leaders have declared Guyana 'open for business' and are taking steps to improve the investment climate.
Natural Resources: Rich mineral deposits, productive land, forests, seas and rivers which present robust and diverse investment opportunities.
Stability: A secure and stable socio-economic climate in which to do business.
Language: Predominantly English-speaking with Latin-American ties