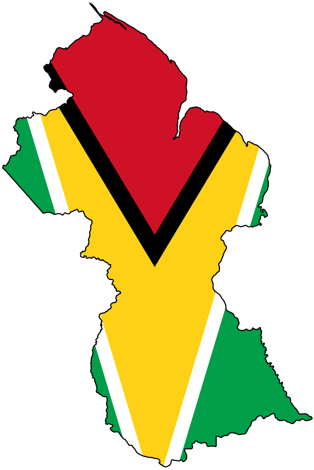 The most attractive investment Destination
Fastest growing economy
Resource rich country
Multi-sector opportunities
Low operation costs
Ideal location to access global markets
Fiscal incentives for investments
Private sector focused government
Diverse cultures and heritage
Guyana's economy was ranked among one of the five fastest growing economies in the world by Nasdaq, Bloomberg and the International Monetary Fund (IMF); at a time when the rest of the world's economy is in decline. The country's GDP for 2019 was US$4.28B, a 10.36% increase from 2018 and is expected to have a 26.2% growth in 2020 according to the IMF revised forecast. Exxon Mobil has projected to produce at least 750,000 barrels of oil per day by year 2025.
Guyana is on the verge of becoming the largest oil producing country in the world on a per capita basis. Guyana is already preparing for this by putting in place the regulatory framework to manage the sector and the investments that would follow.
Other productive sectors such as tourism, agriculture, construction, manufacturing, energy, transportation, mining and services is set to significantly expand and offer broader scope of investment opportunities.
Guyana is the only English-speaking country located on the Northern coast of South America and classified as a lower-middle-income country, with US$5,000 per capita income (2019), GDP of US$4 billion and a population of approximately 750,000. The structure of Guyana's economy is relatively diverse, such as gold, diamond, and bauxite mining, agriculture, fishing and livestock, forestry, rice, sugar, gold, manufacturing and services, engineering, and construction.
With recent oil discoveries, Guyana's gross recoverable resources is now estimated at more than 9.0 billion barrels, making it one of the most significant global finds in recent years.
The Government under President Irfaan Ali is committed to economic transformation of Guyana and has embraced an investor friendly and a strong private sector position.  To stimulate investment across Guyana, the Government is offering a wide range of tax and fiscal incentives to investors in addition to investing billions with upgrade infrastructure, education and energy.
Guyana is taking off, come soar with us!
Guyana : The Gateway to Opportunities
There are several options for establishing a business in Guyana including incorporating a new company, registering an established foreign company in Guyana, establishing a partnership or operating as a sole proprietorship.
Incorporating a New Company Under the Companies Act, a company can be registered with submission of an application to the Registrar containing the following:
Articles of incorporation giving details such as the name proposed for the company;
The registered office in Guyana;
The share capital – rights, privileges, restrictions, conditions, payment terms;
The size of the board of directors. Statutory declaration by an attorney-at-law on the suitability of signatories to the articles of incorporation. Details of the persons who are to be first director(s) and secretary, and their consent to serve.